Wednesday, August 27, 2014 at 07:35PM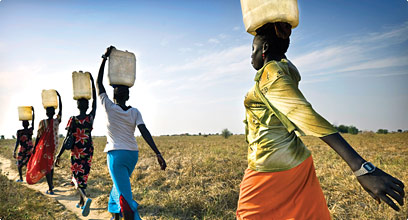 For the 40 days of Lent Blood: Water Mission encourages people to drink nothing but water out of solidarity for those across the world who have limited access to clean drinking water. They walk miles through adverse conditions to get barely potable water.
This is a cause I have donated to for years, and have been dedicated to for weeks at a time. I shutter to think what these men, women and children have to say about thousands of people dumping buckets of perfectly good water over their heads to raise awareness for ALS.
To think that we can save this water and mail it to Africa is a ludicrous idea, so don't mistake my musings for lunacy, but in a world where water is scarce, can we all agree that dumping it over our heads to raise awareness for another cause could be seen as insensitive.
I am not trying to implore you to donate to Blood:Water Mission, nor am I trying to get you to stop raising awareness for ALS, I just think that there is a better way. I know that the Ice Bucket Challenge is on the way out, but the next time a cause is trying to raise awareness, perhaps we can do it with a bit more couth.
tagged
als,
blood: water misson,
ice bucket challenge
in
America